The Ford F-150 is one of the most iconic pickups on the market. Like any other car, if you own a Ford F-150 owner, you'll always want to get the most out of your car. So, you'll be doing yourself a huge disservice if you're not getting the best braking performance. For consistent performance, you'll need the best rotors for F150 brake pads.
| | | | |
| --- | --- | --- | --- |
| | | | |
| | | | |
| | | | |
| | | | |
| | | | |
The best brake pads and rotors help you get the most out of the car's brakes for precise braking and extra stopping power. This means that they're immensely valuable when it comes to maximum protection and safety. Additionally, with the right set of brake rotors, your Ford F-150 won't have to live with that annoying brake noise.
What Should You Know About the Best Brake Pads and Rotors for the Ford F150?
The Ford F150 is a powerful pickup truck that's versatile enough to haul, tow, and impressively handle off-road driving but still stylish and impeccable enough for the city life. Therefore, it's always important to always go for high-quality performance brake pads and rotors. If you need aftermarket brake pads and rotors, they should be made from high-strength stainless steel and innovative materials like carbon fiber ceramic.
Your Ford F150 braking system will endure a lot of wear and tear, so it'll need regular checking. This is especially when you start smelling a burning smell, or it needs a lot of unnecessary pressure as you brake
Regularly performing a brake fluid flush on your pickup truck every 2 years or after hitting 30,000 miles helps to eliminate any moisture that might have accumulated with time. This also helps to prevent corrosion
You'll need to bleed your Ford F150 brake pad lines after every two to three years to help remove any excess air that might have collected within that period
Upgrade your brake pad system by replacing the blank or smooth rotors with precision drilled alternatives such as drilled brake rotors
Avoid instances that will overload your vehicle. Additionally, always apply moderate pressure as you brake. This helps keep your brake pad set in good shape
How to replace your front brakes 09-14 on a Ford F-150:
1. Bosch 20010326 QuietCast Premium Disc Brake Rotor
This premium brake disc rotor by Bosch gives you one of the best braking performance. What stands out about these rotors is the fact that they're precision balanced for a smooth operation. This is overall the best brake pad rotor that ensures that you can operate without any pedal pulsation on your F-150 brake pads.
These brake kits also have a vane configuration that comes in an OEM style. This helps to provide more efficiency in heat dissipation, reduces vibration to eliminate noise and extends the rotor's life. The Bosch 20010326 QuietCast Premium disc brake rotor comes in a G3000 heat-flowed casting that gives it quiet operation and long life. Other than the bi-metal aluminum and zinc-plated coating, it comes in an Alutherm 80 to also extend its life.
The use of this gives it a clean, sleek look for open wheels. The innovative materials used to make these rotors for Ford F150 help ensure superior braking and high-quality performance. Also, the zinc coating and bi-metal aluminum help to prevent any rusting.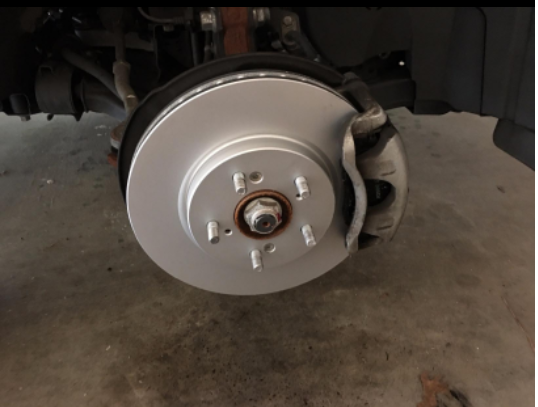 Image credit: amazon.com
Consequently, the better heat dissipation and minimized vibration help extend the life of this kit and your brake pad system.
2. Detroit Axle - 6 Lug Front Rear Drilled & Slotted Replacement Brake Rotors
If you have a 2012 – 2014 Ford F-150, the Detroit Axle - 6 Lug drilled and slotted brake rotor is one of the best replacement kit for your Ford F150 brake system. It has both front and rear rotors that are drilled and slotted performance rotors. In addition, this set is built to exceed the OEM requirements.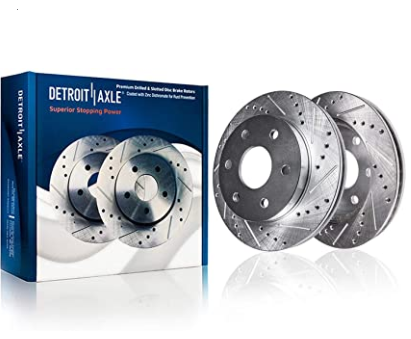 Image credit: amazon.com
As drilled and slotted performance rotors, they help ensure superior braking and increased heat dissipation while reducing brake dust. This also helps to keep the rotors cool even when in extreme conditions.
Additionally, these rotors are coated in zinc dichromate to help prevent brake pedal rust and corrosion. Ultimately these brake kits help reduce noise.
3. Power Stop KC6268-36 Z36 Carbon-Fiber Ceramic Drilled/Slotted Brake Rotor, Pad and Caliper Set
The Power Stop KC6268-36 Z36 carbon-fiber ceramic brake pad set contains a set of brake rotors, brake pads and calipers. These slotted and drilled rotor set is specifically made for heavy-duty vehicles, like the Ford F150 pickup truck. So if you've hauled, upgraded your wheels to a larger size or love going on the off-road thrills, this Power Stop brake kit is for you. It's the perfect tow performance brake kit for the towing job.
This Power Stop carbon-fiber ceramic brake pads set-up is one of the best brake pads kits for next-level stopping power on your Ford F-150. The rotors in this Power Stop brake kit are slotted and drilled with precision for efficient cooling. In addition, these carbon-fiber ceramic brake pads are infused with ceramic materials for durability and heat resistance.
The brake calipers in this Power Stop brake kit are coated using red powder. These Power Stop kit components are also pressure tested and subjected to temperature to guarantee maximum performance on your Ford F-150. The OE key features in this set create the ultimate brake system for the Ford F150 pickup truck.
The ceramic brake set is designed to ensure the perfect speed control for your Ford F150 pickup truck. The brake pad shims in this set are manufactured using stainless steel, with a tensile strength of G3000 metallurgy. As a result, these brake pad rotors enhance your stopping power for reduced noise production.
This Power Stop ceramic brake pads system has cross-drilled holes and slotted rotors to help keep the brakes on your Ford F-150 truck stay cool even while you drive in extreme conditions. Together, these different components in the set provide you with dust-free braking.
Together they also work to help the brake kit resist the tension that's created when towing, hauling, suspension lifting, and off-road driving. As a driver, you can install this on your Ford F150 brake pad rotor confidently since each part is well tested in the Power Stop IL facility, Chicago, before shipment.
4. Detroit Axle 6-Lug 13.70" (348mm) Rear Drilled and Slotted Brake Rotor Replacement
Like other Detroit Axle brake rotors, the Detroit Axle 6-Lug 13.70" rear drilled and slotted brake rotors replacement also has OE standards. This shows that you should expect superior stopping power. It's perfect for any 2012-18 Ford F150 truck.
Each brake kit comes with a zinc dichromate coating to ensure maximum rust protection. This is meant to help extend the rotors' durability and for long-lasting performance. Additionally, these rotor sets are drilled and slotted for powerful braking, even in during the rainy seasons. The slotted design also allows heat transfer.
5. Centric 120.65128 Premium Brake Rotor Kit
The Centric 120.65128 premium brake rotor kit is another quality brake kit with the Original Equipment (OE) specifications in its brake components. With this, you can always be sure that the rotors come with the good finish and fit needed for maximum braking performance.
Additionally, this brake kit unit comes with double-disc grinding to reduce it from wearing out and ensure a more effective rotor breaking in. This is also one of the best brake pads that are mill balanced to minimize rotor vibration. The Centric 120.65128 rotors have a symmetrical vane casting for maximum thermal efficiency.
What to Consider when Choosing the Best Ford F150 Brake Rotors?
A) What's the Type of Rotor?
Brake performance rotors for the Ford F150 brakes come in 4 different types. These include drilled, slotted, smooth and drilled/ slotted. Each of these types carries different benefits. These include:
i) Drilled
Drilled rotors give a lot of heat dissipation for maximum stopping power. Additionally, the drill holes also help get rid of water, gas, and debris. Consequently, this will prevent the rotors from being slippery.
ii) Slotted
Slotted rotors are ultimately best for high-performance vehicles. The slots in the rotors help to move heat, water, and gas, away from the surface. This allows for more efficient braking.
iii) Smooth
Smooth brake rotors don't have slots or holes, so they generally generate a lot of heat and warp quite fast. However, they are also relatively more affordable.
iv) Drilled and Slotted
Some rotor units come with both drill holes and slots. Generally, these devices will offer the benefits of both drilled and slotted brake rotor. This means that they'll offer high stopping power that's more precise on your brakes.
B) Protective Coating
Another factor you should consider while you determine the best rotors for your brakes is which of them comes with a protective coating. Always remember that these devices are designed to be subjected to different elements, including debris, water, and dirt. So, the ideal brakes and rotors for your Ford F150 truck should also come with a durable rust-resistant coating.
C) Car Compatibility
Different rotors are built to work with specific vehicles, so always make sure that the rotor is a compatible fit for your F150 before making any purchases. Generally, you'll also need to check the manufacture year of your Ford F150 to determine whether they are compatible. For instance, some devices will only fit Ford F-150 trucks between 2004 – and 2008. On the other hand, some rotors for Ford F150 are designed to only fit the 2015 – 2018 F150.
Frequently Asked Questions on the Best Rotors for F150
1. Are drilled rotors for Ford F150 better than smooth rotors?
A resounding yes, since they allow water to escape from its surface for superior brake rotor performance in your stopping distance.
2. How to tell when the rotors are worn out?
Generally, the most common indicators include:
Shaking
Rattling
Wobbling while braking
The vibrations are usually felt through your foot when applying your brakes. This is the sign of changing brake pads and rotors.